"Gong Xi Fa Cai" to you even if you're not a chinese! Today is the first day of the Chinese New year for all the chinese all around the world. Especially new year eve, a reunion dinner is a must, where members of the family, near and far, get together for celebration. The venue will usually be in the home of the most senior member of the family.
Like Christmas, the Chinese New Year is the most important holiday in the year for the chinese and it's a good time for the family to get together as well.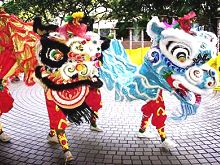 "Gong Xi Fa Cai", a greeting to every chinese during Chinese New Year; Lion dance to sweap away the bad energy; "Red packets", traditionally, red packets are passed out during the Chinese New Year's celebrations, from married couples or the elderly to unmarried juniors, it's common for adults to give red packets to children; Firecrackers come individually or strung on a long string. They are cased in red paper, as red is auspicious. The loud popping noise created by the explosion is thought to scare away evil spirits...Hahaha, chinese have lots of myth ;p .
--