Yup, what do you enjoy doing lately?
For me, I'm enjoying having a simple life. I try not to switch on my lap top at all during my weekend. These I usually do in my weekend lately.
...Read books with Pat in botanical garden with our picnic 'equipments', enjoying the big blue skies and big green field, warm sun, birds singing, glittering mini river and spectacular skyline. Wow wee, fantastic lifestyle, I feel like a lady in leisure...haha.
...We shopping for books, he's utterly enjoying himself at his favorite books section and I enjoy mine. Beside books, I like shopping for crystals a lot, when I'm picking and looking for it, Pat is playing his PSP or checking his emails via his cell phone while waiting for me.
...Catch up every Block Buster movies with Pat and my parents (Gilbert and Betty...hehe), EVERY...you can't believe it. Two couples, the old one and the young one, hand-in-hand walking to the cinema with 2 jumbo size popcorns (this is my dad's favorite). Sometimes, we do bring along Patric's granny, she's 84 years old.
...Watching the second series of 'Desperate Housewives' that took us the past 2 months to finish. However, we still can't able to complete it...geeeees.
...Spend more time with my Jack, he loves to lay on the cuddles and kisses. He'll cling and nuzzle like a baby boy. He is my Shih Tzu dog, he's coming to 10 years old (his D.O.B., 29th October 1997) but still very strong and active and smart and happy and discipline and adorable and of cause lovable...whooohhhh~ The moment he does something cute, I go all weepy and precious and I suddenly want to give him a miracle injection that he'll always stay with me. Umm~~ am I selfish?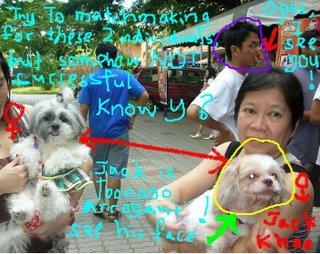 (The one who having a
Cindy Crawford
's mole is my mum, Betty)
I'm enjoying my weekend whole heartedly and am present to my love ones...I feel so productive!
I think you should too, remember, be present…Life is so precious and short! Am not teaching you but reminding you :D. So, work hard and smart during weekdays and enjoy your coming weekendssssssss.
--