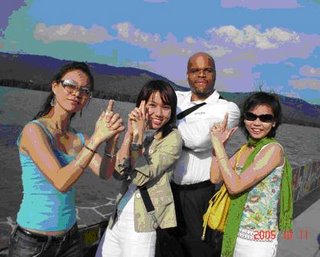 Charlie (Stephen Pierce) and his Asian angels in China, this picture was taken months ago in China. Uumm...actually I'm trying to figured out what place or state is that, I roll my eyes and make some inappropriate guessing. Neither I nor Pat really have no idea which part of China it was. In fact, we just followed the team ;). We traveled from early morning until late at night, like has been traveling thousand milessssss in China.
Along the trip, we kept on walking from one end to another end (whoa, China is sooooo huge!), buying a lot of good things that need to bargain at least half of the price (Haha, I did best in this, Alicia-Stephen's wife, always booked me when she wants to buy something) and eating some 'stuff' that we never have before (Stephen always will be the one who help us to check out the cleanliness and healthiness first, haha). He is health conscious.
I remember when we went for deep fishing in Singapore, before boarding, Stephen was starving and aiming at a 'ghetto' restaurant there. He acutely aware of the food cleanliness and he ended up chatting and standing beside the cook in the slippery kitchen. The cook was cooking omelettes for Stephen, from taking out the eggs from the fridge to packing them for Stephen. He was watching the whole cooking process to make sure everything is clean. He is so fun and he likes to play his
wet
sweat towel with me, yewwwww...It's really WET + SWEAT, hahahaha.
We utterly have LOTZZZ of fun everytime when we're together. Pat and I are planning to visit them in US soon, yay yay!!!
But this big guy, was recently invited by the US Federal Government to have a competition to a private meeting for a 5 year strategic marketing contract worth $350 million. Stephen and his team beat out 14 of the world's largest companies to be highly favored by the Government. And now,
Stephen Pierce
and his Innovation Marketers team is one of the only 2 companies left fighting out of the 14 giants to secure the $350 million 5 year contract. Whoah, cool man! By the way, he also invited to George Bush's 2007 President's Dinner at the White House next year and to participate in a Board Meeting.
Stephen and Pat are releasing a new product tomorrow that you won't hear it from other marketers. So watch out if you want to learn what Stephen has to say about
"winning" in your niche market
.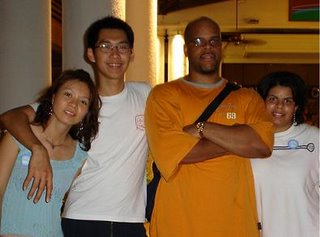 Here's the picture we took when we were in Sentosa Island in Singapore.
Look at our faces, we were fully exhausted and tired after the fun and sunny day.
P.S:
Here's the link to Stephen and Patric's new product
.
--